ABOUT THIS ITEM
Sept 13, 2018: Kate Upton endorses Copper Fit! Read About How She Views Fitness & Copper Fit as a lifestyle here.
Perform At Your Very Best!
The cycle of soreness, pain, and longer recovery periods can be unbearable. We believe there is a better way to live day-by-day in less pain and with increased mobility. Copper Fit® is constructed with new technologies, materials, and fabrics that are specially designed to improve performance, support joints and muscles, and aid in recovery. Millions of people, from extreme athletes to everyday people, have benefited from Copper Fit® products.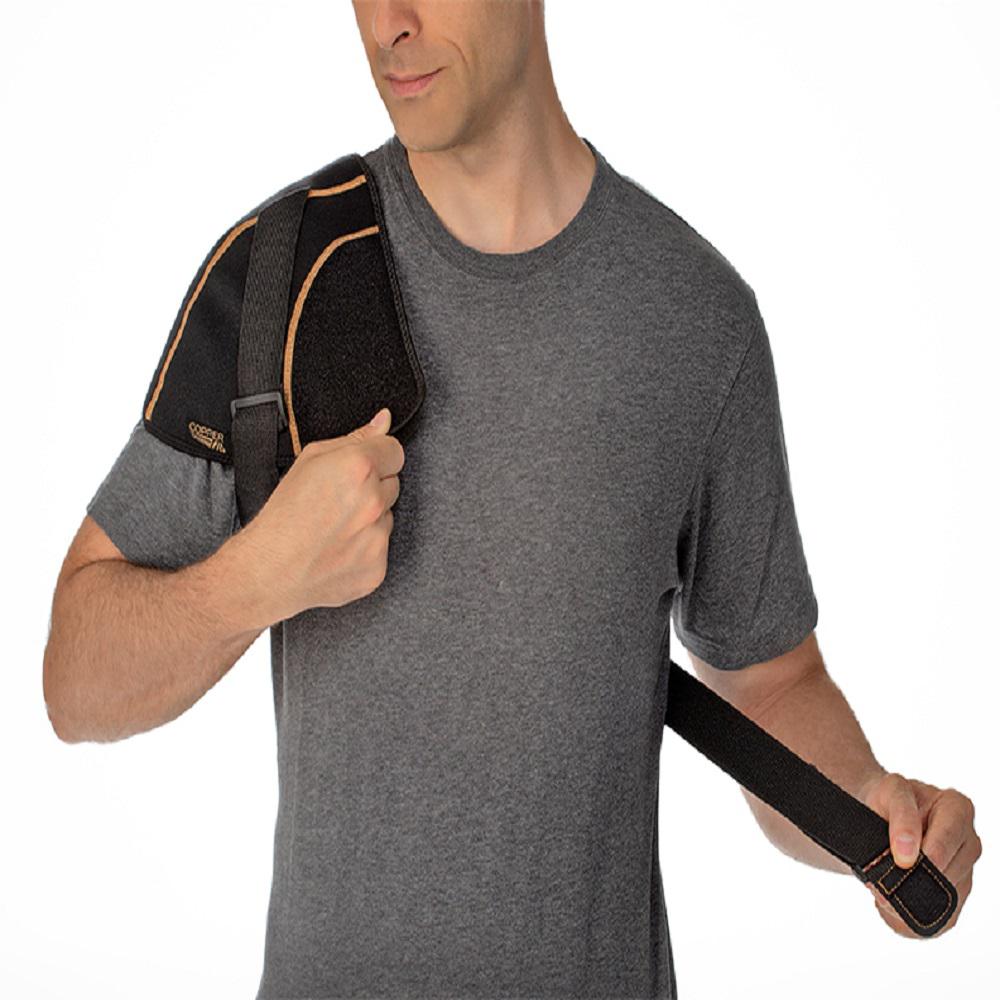 How Does It Work?

For thousands of years, people have appreciated copper's many natural properties. Ancient Egyptians, Romans, and Aztecs used copper for many purposes. Copper's natural properties provide protection against bacteria that can cause stains and odors. It is non-sensitizing, and non-irritating to the skin; not harmful to people or the environment.
Copper Fit® Rapid Relief Hot & Cold Shoulder helps deliver effective hot or cold therapy for muscle and joint soreness, stiffness, and pain. It lets you remain mobile during recovery. The included form-fitting, anatomically designed gel pack fits into the insulated pouch on the adjustable compression sleeve. It supports improved circulation and oxygenation of working muscles. It helps prevent strain and fatigue and reduces recovery time by keeping muscles warm. The copper-infused fabric helps eliminate odor and wicks sweat away from the body to prevent chafing and rashes. The gel pack remains pliable whether hot or cold.
Copper Infused
Manufactured with copper ions bound at the fiber level during the manufacturing process, our copper infusion process will not easily wash out or quickly wear away and has been tested to remain effective for wash after wash.
Odor Reducing
Copper's natural properties provide protection against bacteria that can cause stains and odors.
Wicking
Material wicks sweat away from the body to help keep you dry and comfortable. Wicking capability and fiber content may vary by product.
Compression
Compression technology provides specific, targeted support for muscles and is designed to alleviate soreness and reduce recovery time so you can get more out of every workout or activity.
4-Way Stretch
4-way stretch gives you the support you need without sacrificing a 360-degree range of motion.
Product Highlights
Adjustable, unisex

Reusable gel pack-use it hot or use it cold

Hot/cold therapy

Flexible-it moves with you so you can stay mobile while you recover

Copper-infused fibers-odor reducing, wicking
 *Individual results may vary. Results not typical. Studies of compression garments have shown faster relief of muscle soreness and joint pain when worn for 12-48 hours after exercise.
CUSTOMER REVIEWS